Gone Are Days When Customers Would Come To Your Travel Agency. Now Customer Want To Book Flights Online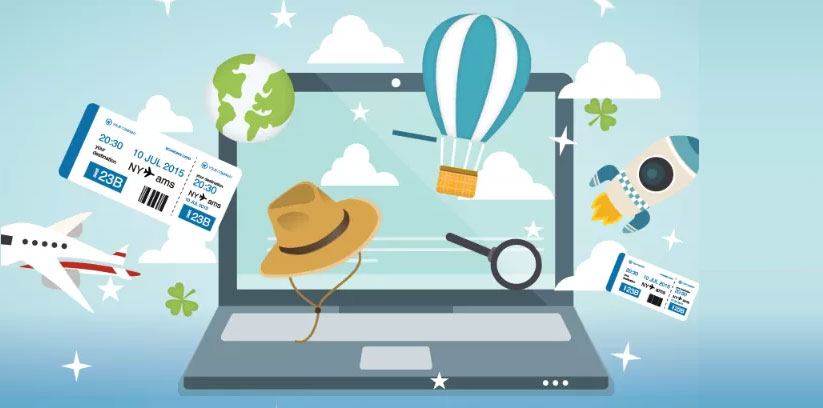 Getting relax is one of the main reasons for going on holidays. But when you go through a local travel agent it becomes more stressful to plan or book your holidays. To visit a travel agent and explain your ideal location for traveling can be a huge hassle. No doubt, travel agents have contacts with hotels and airlines and grab potential discounts for you. But, you have to wait for some hours for things to be settled and done.
Sometimes, it is also seen that travel agents do not have sufficient plans for your favorite destination and they try to bend your mind towards the destinations by which they can earn more. But a good thing is that now it has become easy to plan your vacation through online travel agencies without getting any hassle.
New Online travel agencies use online software that provide extreme flexibiltiy and range of travel services to better suit each client.
Here we are going to discuss some potential reasons to join an online travel agency instead of an offline travel agency:
Travel Agents Are Not Flexible
Look upon your travel agent, whether it is flexible according to your plan or not. Most of the agents do not show flexibility if there is a need to change your plan. In such a situation you get bound with your travel agent and vacations are the means to break the bounds not to chain the bounds.
Travel Agent May Not Have Access To Your Favorite Airline
Sometimes, you hire a travel agent who doesn't have accessibility to the airline for which you are looking. Agent insists you take alternative one. But, it might be possible you are going to get a bad experience through this unknown airline.
So, can you afford the risk of making your vacations a disaster? Obviously not. So, online travel agencies are not limited to providing airlines. You can book your favorite one from your easy location to move.
Is There Any Cancellation Policy
Once you hire a local or private agent for making sure your vacations, no doubt, they offer the best plans for you. But, once you have paid the advance payment then you have bounded yourself with them.
This is because there are not sure cancellation policies offered by the local or private agents. On the other hands, online travel agencies offer cancelation process for specific times of interval. If any change has occurred into your plan you can easily cancel your booked ticket by online travel agencies.
Electronic Payment Method May Be Secure Excessively
If you are going to book your travel plan or air ticket through online travel agencies then it could be more secure than that of the local travel agent. After paying payment to the online agency you are provided with evidence of a payment receipt.
On the other hands, if you are going to pay the travel fee to agents then there would not any proof exist that you have paid to them.
Online Travel Agencies Comparatively Cheap Than Travel Agents
Online travel agencies charge the actual amount of airlines. However, they have contacts with the airlines on behalf of which you are provided with some kinds of discounts.
However, travel agents charge you extra for their commission. So, booking of your airline through online travel agencies will be cheap in price than that of travel agents plans.
24/7 Availability
Travel agents do not show 24/7 availability. You have to take an appointment to meet with your travel agent for booking your vacation plan or air tickets. In such a situation you have to follow the time table or working hours of the travel agents. Of course, you will get disruptions in doing such things.
But if you are going to take the services of online travel agencies then you will be provided with the solution of every single query at any time and anywhere.