Why Using a Custom Development is a Great Idea instead of WordPress?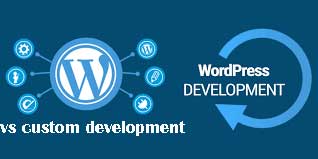 Custom Development is developing a unique software different from Commercial-Off-The-Shelf (COTS) packaged software as well as already available open-source software (publicly accessible and modifiable software). Custom Development has two functions; it can create a new application as well as it can enhance the function of already existing application. WordPress is open-source software used for Content Management System (CMS). Around 75 million websites are using WordPress. It is free to download, easily installed, deployed and upgraded.
Both the Custom Development and WordPress are competitive enough but the main difference between the two is that in custom software, you have to start from zero, that is, to start building from scratch; whereas WordPress can almost give you a pre-made site. Both these software are suitable accordingly with respect to the need of their users. This article will anyhow discuss why using Custom Development software is best as compared to WordPress.
Pros of Using Custom Development over WordPress:
Although costly, but customized websites are unique and will help boost your business as uniqueness must be there which sets your business and marketing strategies apart from all others. The one who is to invest a lot in their business will ofcourse invest in its proper presentation through a custom-made website and therefore, cost does not remain an issue.
Custom-made websites are highly adjustable according to your need and business requirements either that be its design or function. On the contrary, WordPress is less flexible, customizable but to a limited extent. Boosts SEO and you can have a greater number of visitors on your custom developed website. All of its pages can be read correctly. Whereas, WordPress is not at all SEO friendly because they already have intrinsic SEO solutions, which requires a lot of effort and customization to make it SEO friendly. Get best SEO Services with best SEO packages.
Since custom made sites are accessible and easily adjustable, therefore any changes made to them (as your business progresses) by your web developer by implementing and incorporating latest technologies; it would not bring lot of future investment as it is cost effective in terms of the latter. On the other hand, in WordPress, you cannot add any custom technology or any particular addition you like because the themes available have specific frameworks and systems that are supportive only to limited technologies. The two worldwide used custom web development applications are ASP.NET and PHP Laravel which are discussed below:
Web Development in ASP.NET:
It is a Microsoft server web application structure that is used to build dynamic websites. ASP.NET is quite an active and up-to-dated server page technology aiming to implement an object-oriented methodology towards developing a web application. Get best Web app services in Lahore. The simple and user friendly coding language (C#, C++, Visual Basic, Perl) offers server together with user controls. Less maintenance is required and attuned to numerous languages. It has improved scalability as well as application performance. ASP.NET is easily implementable and has fast webpage performance. It is helpful in your business as this application can run on various technologies and hardware. It has low maintenance and is easy to incorporate. Read why a website is required to boost your business.
Web Development in PHP Laravel:
A framework built with the goal to write simple and communicative code syntax, leading to devise a developer friendly web application and a maintainable code. It is a latest technological advancement aiming to become superior above other PHP frameworks by having a supportive and maintainable code and additional robust features. Speaking of steadfastness and maintainability of a code, it has a good basis and strong community support before Laravel's PHP framework.