Mobile apps are the best way to take your business to the next step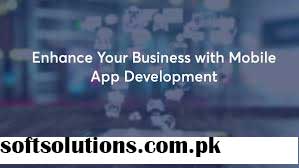 Mobile apps are much useful to take your business to the next step. The latest techniques of IT industry modernized the way of advertisement and seeking more clients. In this Global age, an official mobile app is necessary to gain more clients and to update customers with your company. Seeking for best mobile application Development Company in Lahore, Read how Lahore has become a hub of it services in Pakistan. Visit softsolutions.com.pk. Here we will discuss how mobile app does a miracle for your business:
Mobile app necessary for client engagement:
Mobile app creates a loyal clientage of the company. Once your client comes in touch with your mobile app., the client stay updated with more updates and offers from the company. It helps the client to understand the company business. Mobile apps build the trust of the client on the company. Make your company official mobile app by visiting softsolutions.com.pk
Build a company-client relationship:
Mobile app. have such a feature that creates a long term relationship between the company and clients. The client remains in touch with the company 24/7. With mobile app. , the client always ready to give feedback on company products and services. Employee always remains active to solve client issues with the app for mobile .10 reasons to have website mobile app for business.
Easy and low cost:
Mobile app development is easy and can be developed at a low price. So, it is the best method to engage your clients with your business in an easy way. The app for mobile increases the number of active users. So, a brand advertisement at a low price is only possible if you have an official company mobile application.
Help out to beat competitors:
No matter, you have a small business or a large setup. Your mobile app will give a hard time to your competitor. Many small entrepreneurs do not still have a mobile app. So, build your mobile application to take your business to the next level. Softsolutions.com.pk providing low-cost services for mobile development and designing for small companies.
Mobile apps act as sales Booster:
There are many examples that top entrepreneur boosts their sale to 3times with launching their mobile apps. Mobile apps not only boost the sales of the customer but also helps in getting the loyalty of their customers. You can easily boost your sale if you are expert in designing and presentation of your product in your app. We provide the best application for mobile designing facility to boost the sale of our clients.
Retargeting:
Retargeting is a remarketing tool. Companies are much worried about their unfinished orders. With mobile app., the client gets a reminder to finish its uncompleted orders. This tool helps clients to finish their orders as soon as they find the time. It automatically boosts the sale of the company. Retargeting is only possible when a company remains in contact with a customer and mobile app is the best tool to remain in touch with clients. Check out this ACCA mobile app for 100 % guarantee of success in exames.
Mobile apps are user-friendly and easy to use:
Mobile apps have customized options make the customer feel special. The customer loves the app when the app provides customization feature. So, mobile apps are friendly and easy to use. If you are looking for a user-friendly and simple mobile app for your company, visit softsolutions.com.pk. we have experienced team to build your company official app.
The mobile app gives a better experience to your client:
softsolutions.com.pk introduces the interesting feature in your app which gives the user of the mobile app with a better experience. Simple, more convenient and containing relevant material in mobile app increase the active users of the mobile app. Mobile optimization to make your company mobile app fast and reliable give a better experience to the client.