Top 10 features of a campus management software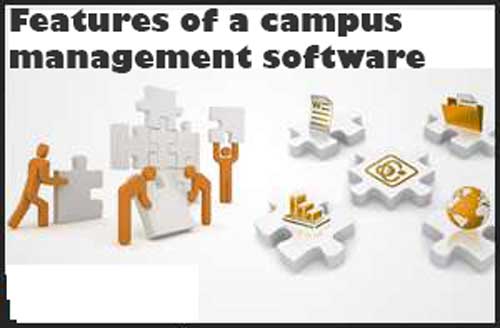 If you are looking for ways to organize your campus in a better way. Here is the solution
The
campus management software i
ncorporates different ways of management for your schools, colleges, universities in a much smoother way. Moreover, it gives access to check up on campuses numerous assignments. This
management software
provides a variety of functions which can be tracked performance record of thousands of students. This software improves correspondence, offers an effective way to analyze the performance of a student and also permits an expanded relationship with the guardians. Get the
best software development services in Lahore
.
Campus Management Software:
Campus management software's purpose is to convey the right information and skill from specialized management. Already, there were relatively few choices for Universities for maintaining a particular administration network. Software for campus management is an easy method to ensure productivity in the running scale of association. These days everything is going digitized the manner in which it was not many decades prior. This is all because of the stunning and helpful innovations in the training period for both student classes and also proving helpful in administration as well.
This is a significant explanation regarding why the thousands of schools, colleges and Universities are taking up the campus management software. Despite all the help for student's management, this software is also helpful in making the administration of staff, educator's life easier and efficient. However, Campus management software helps you in the administration of your school, college, and university. Top 10 features of a Campus Management Software that you'll like for making your school, college and university management smooth and easy.
Here is the list of amazing campus management software which will completely guide you about you can make your campus at the top of the list by using these amazing Campus management software.
MyClassCampus
iCampuz
Gradelink Sis
Igradeplus
Eduflex
Bloomz
Exam4u
Edumaat
Your Agora
ParentLockker
MyClassCampus
This software for campus management is known for managing the campus in a more organized and efficient manner which comes with a 40+ ready module. This software helps in library management too by arranging racks, different sections of the library and all the books so that nothing can get lost. MyClassCampus also tracks all the people who are using visitors pass on the campus as well as the different tasks with their last date.
*Pro feature:
The Grievance Management module helps to deal with various grievances and complaints from all over the campus which includes students, teachers, and other organization members.
iCampuz
This software facilitates mostly paperless institutes to work with a network campus. iCampuz is a cloud-based management software that provides guardians, teachers, administration, and students to interact at a single platform. The best thing about this software is that it decreases the rate of paperwork near about 60%. Moreover, this software is computerized and works automatically by generating quick reports with full storage of data. It also reduces the redundancy of data. iCampuz also allows online monitoring for both students and teachers to check their level of performance and how much course has been completed by the faculty. There is also another feature of this software that students can easily evaluate teacher performance
Gradelink Sis
Gradelink sis integrates lesson management with the enabling feature of the cloud. This software helps management to utilize time in an effective manner and with the help of a grade book student performance can be kept a record with the feature of student information system software and improves student performance through a grade book and Student Information System software.
Igradeplus
Igradeplus is a reasonable management software which is simple to-utilize for online evaluation book and school. The board framework offering a wide range of functions to exhibit highlights that intrigue not exclusively to singular instructors yet to schools and regions. This software incorporates students and faculty with the flow of participation. In addition, it's easy to understand the correspondence highlights. The software also offers student and parent entrance accounts. Some key functions of this management software are that it works in a learning management system. Transcripts and result cards with test schedules are also provided to the administration.
Eduflex
Eduflex is an instructive management software for schools, colleges, and other campuses. It accompanies instinctive highlights encouraging everything from student enrollment to graduate class enrollment as well as helpful for the administrators. This campus management system executive's framework programming accompanies a one of a kind module called 'clinic the board.' You can keep up a legitimate record of enrolled students on a particular campus if he is admitted to the hospital restorative consideration given to them. Likewise, you can oversee the total past restorative record of all students utilizing this software and guardians can be advised by means of SMS/email quickly during the health-related crisis.
*Pro features:
Eduflex provides online enlistment, Simple participation the board, Produces time-tables inside a couple of snaps and helps in plan exercises and assignments effectively.
Bloomz
Bloomz has the highlights instructors need to associate, convey and arrange with guardians. It incorporates highlights from informing, simple photograph and video sharing, plan coordination, information exchange structures for volunteers, gatherings and field trips. It likewise holds a stage for understudies' conduct the board and character portfolios. The application is accessible on versatile. Moreover, school administration features include management of communication, online calendar, parent and student portal, school district and custom curriculum.
Exam4u
Exam4u is the campus management software that designs online tests intended for both students and teachers. It gives you a chance to mechanize the whole assessment process from the online student portal to give evaluation reports and test results. It also provides the best and easy solutions to difficult procedures. It's structured as a viable online test platform, giving basic answers for the confounded procedures. It gives a simple elucidation to utilize answers for Directors and exam organizers of the training associations to deal with their online tests and provides equally help to all students.
Edumaat
The campus management software helps in the management of colleges. Edumaat recognizes and aides in satisfying the prerequisite of various organization heads, faculty, parents, students, administration, the organization board, and other staff individuals, etc.Edumaat also gives investigation and choice help. Aids administration with the key function of maintaining a timeline for staff to structure and set-up courses, educational programs. Moreover, it encourages the participation of the board by mechanizing all procedures identified with it. Edumaat also fills in as a proficient archive the board stage for dealing with all records and reports of instructive establishments.
Your Agora
Your Agora is best known for helping ESL schools in significant investigation and bits of knowledge to really upgrade the school's presentation. It gives educators ground-breaking, extensive instruments to improve the work process and make showing progressively community-oriented and intriguing. With highlights, for example, auto evaluating, course the executives, intelligent assignments, a unique schedule, and adaptable prospectuses, Your Agora is the solution to get an amazing experience for managing classrooms of students and faculty all in one.
ParentLocker
This Campus management software is for best school management with the correspondence programming it streamlines all parts of school organization. This incorporates report cards, assignments and tests, information investigation, booking, affirmations, enlistment and some more. It gives guardians and the school total and consistent approach to trading significant data and guide to teacher and students to get the desired results for their campus.